Kilauea Cocktail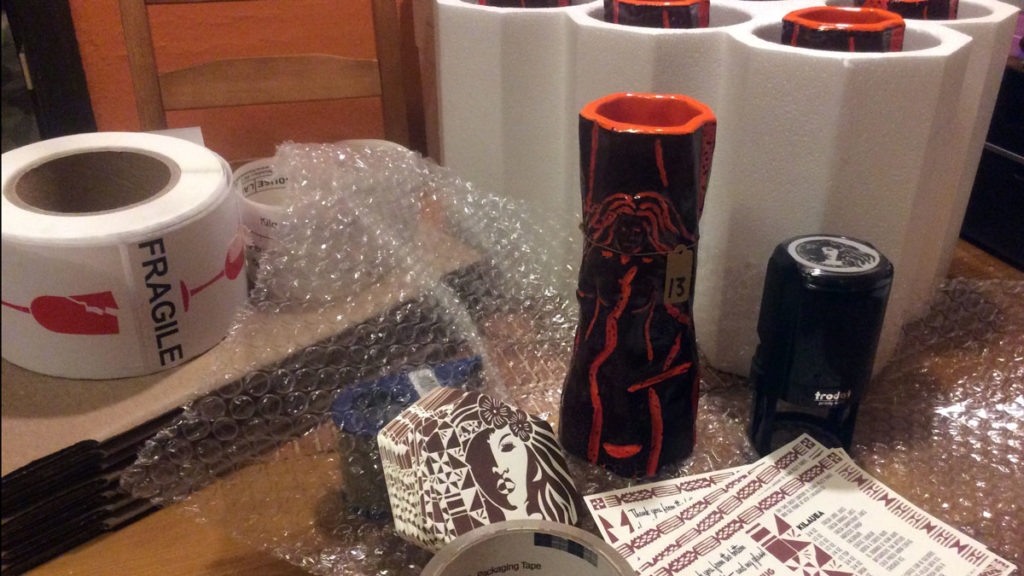 The Pele tiki mug kickstarter was a success, and the production of mugs is still ongoing, after a lot of trial and error getting the glaze to come out the way I'd hoped. My production is a little behind schedule — but whether you have a mug yet or not, I thought I'd share the recipe for the Kilauea cocktail that I developed for the annual Kilauea Cove tiki party:
Kilauea1
¾ oz. fresh lime juice
½ oz. fresh orange juice
½ oz. white grapefruit juice2
½ oz. Li Hing Mui syrup3
¼ oz. falernum
½ tsp. coffee liqueur
¾ oz. Smith & Cross Rum
¾ oz. El Dorado 12 Year Rum
a dash of Bittermens 'Elemakule Tiki Bitters
1 oz. cold brew Kona coffee
4 oz. crushed ice
Blend all but coffee for 10 seconds. Pour into mug half-filled with ice cubes. Float coffee, and garnish with a smoldering cinnamon stick.
---
Adapted from "Krakatoa" by Jeff Berry, in Beachbum Berry Remixed, p.58 ↩
Pink is ok, if you must. Freshness is more important than varietal. ↩
If you have a Pele mug with a recipe card, this ingredient is listed as Hibiscus Syrup, but after a few taste tests, the decision to move to Li Hing Mui syrup was made. ↩